Sheba Dries off at the Robe River on her last trip before she died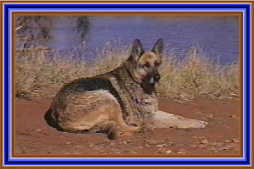 I took holidays and off we went to the North of WA. Every river we stop at Sheba goes in for a swim and Ben runs along the bank as he can't swim poor boy. Every beach we stop at Sheba goes swimming and she is enjoying herself.
We meet up with some people at the Robe River. Their kids are swimming and Sheba dashes off for her swim. I tell her to go in away from the kids and she responds and does so. The people are amazed how she responded and did what I said. I tell them she is like a human and she is sick. No one believes it including me who does not want to.
After we talk a bit, the kids play with Sheba and Ben, Sheba gets most of the attention. They reckon to go to Onslow and say that its nice there and the Caravan Park loves and takes dogs. I decide as we have never been there to have a look.
We arrive at Onslow by dusk. The caravan park decides that two big dogs are not welcome it seems they have made their choice before even knowing my kids. I decide I don't like Onslow any way and head out of Onslow. Really it is just a wind swept beach town with nothing to offer. Even the beach is lousy. We stop at the river some kilometers out of Onslow and stay there for the night. Sheba wants to go swimming but the banks to the river are very steep so I tell her NO. She sulks a bit but that soon passes.
Morning comes and we resume our trip to Cleaverville Beach which is our next long stop. We stop a day or two at all our favorite spots where Sheba and all of us really have a good time. We arrive at our destination and set up camp the following morning. The weather is real nice and we do some fishing for our evening meal. We got enough fish for all of us. We then went swimming and after we go collect firewood for the camp. Sheba gives a hand to pull the large pieces back to camp, Ben does not he's along for the ride. We spent a week at Cleaverville having a boring time swimming, fishing and walking along the trails and basically relaxing and having fun.
Next stop is Karakleun. It is a reserve at the start of a place called Eighty mile Beach about 900 Kilometers north of Cleaverville. We end up camping on the river that runs into the ocean, a nice private spot. The river has Brim so we can fish here too. The sand is all beach sand so there is no mud to contend with. Day is spent walking around the reserve which goes for miles and sun tanning for me while Ben and Sheba play in the water and chase fish. It is funny to watch her trying to catch the fish, but they are too fast for her. At night the Roos come in and hang around the 4WD. From early morning though they keep away and don't come close. By 8am they vanish for their sleep.
The trip back was also cool. We stopped at all the beaches on the coast for a few hours or sometimes a day depending on how nice the weather was. YES, Of course Sheba did go swimming.
Eventually we arrive back to Perth.
One week later after we arrived back we go to the top of a hill in the area here where they are destroying the bush to make way for progress, sorry I mean houses. Its not a bad spot as you can see Perth city and even the airport. We go back to the 4WD and suddenly Sheba has not the strength to jump in. I have to help her. A week later She stops eating and I start to hand feed her. She now cannot eat solids so I feed her sardines and soft type foods. She seems to walk okay though. By the end of the week she wont eat anymore.
October 1996: The Vet X-Rays her and said the Fluid in the lungs is real bad it is time. I don't want her dead so I take her home. She is very quiet now and no longer the happy Sheba. She still wont eat so maybe the vet is right. I phone him and he comes over. Ben senses something is not right and tries to stop the vet from coming in. I have to lock Ben in the Garage as I have never seen him so Aggressive towards the vet. Sheba is lying on the lawn. I call her and she comes over and puts her head on my lap. The vet fills the needle and SORRY I CANNOT FINISH THIS STORY, I JUST CAN'T